---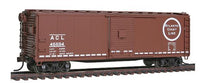 By the beginning of WWII, the majority of the classic USRA double-sheathed box cars and their clones were rebuilt with steel sides. More rebuilds followed in the late 1940s and early 1950s. By late 1948, close 14,000 of the original 24,500 USRA double-sheathed cars had been rebuilt with quite a degree of variation including the end, door and underframe. These steel side rebuilds were far more popular than their single-sheathed counterparts and make a great addition to the Atlas HO scale product line.
Features:
Ready-to-run
Highly detailed body
10-Panel body
7-8 or 5-5-5 panel ends as per the prototype
Accurate painting and printing
Brake detail
AccuMate® couplers
Opening door
Fishbelly or Straight underframe as per prototype
Separately applied wire grabs and side ladders
Inside height of model may vary from prototype
AccuMate® couplers are made under license from AccuRail, Inc.
Each Atlas HO freight car features free-rolling trucks with blackened metal wheels, AccuMate body-mounted couplers and the most accurate painting and printing imaginable. 
8042020