---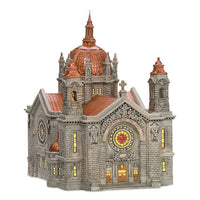 May have been displayed.  Box opened and inspected. 
Historical Landmark Series Anniversary Event Edition
Description: Rising majestically on Summit Hill, overlooking Minnesota's capital city, the 87-year old Cathedral of Saint Paul is the center of worship in the Twin Cities, and is one of the most recognized buildings in the Upper Midwest. This copper dome variation was available only at the Department 56 25th Anniversary celebration. The green dome version, a re-issue of the copper dome for general distribution, is item 58930. River Centre Celebration Limited To Year 2001 Production
Subseries: Historical Landmarks City
Notes: Standard 6W/120V replacement bulb (item 99244).
6062023