---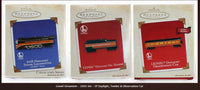 Hallmark Ornament 2003 Set of 3: Lionel Southern Pacific 4449 Daylight Steam Locomotive, Tender, & Observation Car
2003 Lionel #8 - 4449 Daylight Steam Locomotive
2003 HALLMARK KEEPSAKE ORNAMENT
QX8087
In 1941 when the first Southern Pacifics GS-4 Daylight steam locomotive began her run, she was called "the most beautiful train in the world." By the time the Daylights were retired in 1956, the 4449 was given a permanent home in Portland, Oregon. Returned to service for the 1976 Bicentennial celebration, she was decorated in red, white, and blue - and powered "America's Freedom Train" across the nation. Today the 4449 is the only surviving example of the legendary GS-4 4-8-4 engine class. LIONEL captured her original red, orange, and black art-deco styling in its product line.
#8 in the LIONEL Trains series.
2003 Lionel Daylight Oil Tender, Lionel Trains
2003 HALLMARK KEEPSAKE ORNAMENT
QXI8249
The tender for the Southern Pacific Daylight echoed the streamlines styling of its locomotive. Carrying 23,300 gallons of water & 5,880 gallons of fuel oil, it provided plenty of power for the Daylight's famous runs over the rolling mountains and through the lush, green valleys between Los Angeles & San Francisco. The Daylight also ran scenic routes through the Rockies to California.
Produced since 1900, the trains are prized by hobbyists & collectors for their exacting detail & historical accuracy.
Trains & Christmas just seem to go together!
Size: 3 1/8"L
2003 Lionel Daylight Observation Car, Lionel Trains
2003 HALLMARK KEEPSAKE ORNAMENT
QXI8327
The passenger coaches of the Southern Pacific Daylight were magnificent, with reclining seats, air-conditioning, and picture windows more than five feet wide. In her first three months of operation, 63,000 passengers boarded "the most beautiful train in the world" and thousands more were turned away. The beauty and glamour of the train itself and the movie stars inside were matched by the scenery as the Daylight rolled right along at the edge of the Pacific for more than 100 miles.
The lights inside the observation car glow.
Battery operated. The wheels turn
This ornament is made of die-cast metal
Uses 1 CR1220 battery
Size: 4 5/8"L

Die-Cast Metal. The wheels turn.
stock photos used