---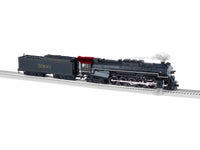 Built to Order. Limited number produced.
What if other roads had followed the Pennsy's lead and ordered some new Super-Power 2-10-4s during the war? The CB&Q, Rio Grande and Southern schemes pictured here bring that scenario to life. The KCS actually did order some similar locomotives and while different in details from the prototypes, No. 905 certainly captures the spirit of these machines, especially with that great patriotic tender! Bessemer's big 2-10-4s came early, and most found a second career on the Messabe Range, lasting until 1961. These models, though different in details, represent the look of those heavy-haulers well.
LEGACY® Control System equipped – able to run in LEGACY® Control mode, in TrainMaster® Command Control mode, or in Conventional mode with a standard transformer
Bluetooth® Control - Operate with Universal Remote or LionChief® App
Odyssey® II Speed Control

LEGACY® RailSounds® sound system featuring:

CrewTalk™ dialog and TowerCom™ announcements, each with different scenarios depending on whether the locomotive is in motion or stopped
Six official railroad speeds with CrewTalk dialog
DynaChuff™ synchronized with 32 levels of intensity as the locomotive gains speed
LEGACY® "Real-Time Quilling Horn" control with instant response for realistic signature "quilling" and correctly timed warning signals
Single hit or continuous mechanical bell sounds
Sequence Control: plays the sound effects of an entire trip, including warning sounds and announcements, based on the movement and speed ofthe locomotive
Current speed and fuel dialog, refueling sound effects
IR Transmitter for SensorTrack™
Powerful maintenance-free motor with momentum flywheel
Wireless Tether™ connection between locomotive and tender
ElectroCoupler™ on rear of tender
Directional lighting including operating headlight and back-up light on rear of tender
Illuminated classification lights on the front of locomotive
Traction tires
Interior illumination in cab
Die-cast metal locomotive body, pilot, and trucks
Die-cast metal tender body and trucks
High level of separately applied metal details
Separately applied builder's plate
Synchronized fan-driven smoke unit
Adjustable smoke output
Authentically detailed cab interior
Cab "glass" windows
Engineer and fireman figures

ADDITIONAL FEATURES:
PRODUCT SPECIFICATIONS
Rail Line:

 

Southern
Road Number:

 

5300
Gauge:

 

O Gauge

 

Scale Type:

 

Scale
Power:

 

Electric
Engine Type:

 

Steam
Min Curve:

 

O72
Dimensions:

 

Length: 29"
05062020 wall