---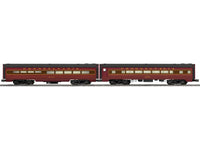 NEIL YOUNG SIGNATURE LINE THE TEXAS SPECIAL F3 PASSENGER SET ADD-ON PASSENGER CAR 2-PACK
Postwar inspired with 21st Century Technology
Signature Line F3 returns with features typically reserved for our highest end scale engines. Underneath the original diesel body this Signature engine comes loaded with the full LEGACY Control System and includes LEGACY RailSounds, ElectroCoupler, and Odyssey II Speed Control. Enjoy the realism of smoke, lights, sounds, and couplers — and the power of two modern can motors — all controllable from your LEGACY CAB-1L or CAB-2 remote controller. New, realistic details have been added to the F3 body as well—authentic lift hooks and boiler stack details equip the roofs on both the F3 A and B units.
Signature Line 15" Extruded Aluminum Passenger Cars make their return to the Lionel line with new realistic interiors, hand-painted passenger figures, separately-applied metal details, and interior lighting.
The Texas Special –"Glamour Train of the Southwest"—became an American icon in the 1950's not only on the real railroad but also in the hearts of Lionel fans. Emblazened the Lionel body of the classic F3 diesel, the dashing red and silver of KATY and Frisco upheld the F3 engine as Lionel's signature Postwar diesel.
You can also add a powered and non-powered F3 B-unit.
 Includes:
Observation car
Diner
Vista Dome
Coach
Passenger Car Features
Die-cast metal sprung trucks and operating couplers with hidden uncoupling tab
18" extruded aluminum bodies with flush fitting windows
Operating end vestibules with flexible diaphragms
Separately applied metal roof vents and grab handle details
Metal underframe detailing
Opening end doors
Metal frames
Authentically detailed and painted interiors
Interior LED lighting with ON/OFF control
Passenger and train crew figures
Operating marker lights and end light on observation car
Lighted drumhead on observation car
Smooth style roof
PRODUCT SPECIFICATIONS
Rail Line:

 

Pennsylvania
Gauge:

 

O Gauge

 

Scale Type:

 

Scale
Brand:

 

Lionel
Min Curve:

 

O31
Dimensions:

 

Length 15" each
Most Recent Catalog:

 

2014 Lionel Signature Edition