---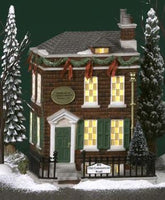 Previously displayed. Removed from box and inspected.  top of box taped. 
Special edition celebrating 20 years
The famous novelist Charles Dickens was born in this modest house in Portsmouth, England on February 7, 1812. Now restored and furnished in the Regency style, the house is preserved as a museum. To commemorate the 20th Anniversary of the Dickens' village Series, this special edition includes a collectible pin, along with a sign noting the birthplace of Dickens and a lamp either of which can e hung over the front entrance.
DV DICKENS' BIRTHPLACE,LTYOP

Introduced December 2003
Retired December 2004
Lighted Buildings
06052023