---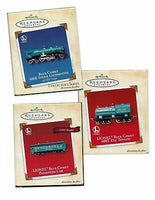 2002 Lionel #7 - Blue Comet 400E Steam Locomotive, Oil tender and passenger car
2002 HALLMARK KEEPSAKE ORNAMENT

Blue Comet 400E Steam Locomotive
QX8166
The LIONEL Company had the cooperation of the Jersey Central Railroad when building its 1930s replicas of the famous Blue Comet, the fast express train that ran from New York to Atlantic City. In remarkable detail, LIONEL designers and engineers captured the long, low lines, the beauty of design, and the mechanical precision -- even the two-tone color -- of the 400E. Proud LIONEL owners bragged that this was the biggest, most powerful, most beautiful model locomotive ever built.
Size: 4"L
Blue Comet 400T Oil Tender
QX8243
In the 1930s Lionel Blue Comet train sets, the big No. 400T oil type tender followed the powerful 400E steam locomotive. The carefully detailed tender was heavily embossed and featured twelve wheels in two six-wheel trucks. It clearly lived up to the company's slogan "The trains real railroad men buy for their boys, because Lionel Trains are true-to-life."
Size: 3"L
Blue Comet Passenger Car (lighted)--  RARE
QX8833
Featuring Glowing Light
Running with the famous Blue Comet No. 400E steam locomotive and the No. 400T oil tender, the Westphal was one of the three named passenger cars on the Jersey Central express from New York to Atlantic City. The other two passenger cars were the Faye and the Temple. In the 1930s, LIONEL Blue Comet train sets earned their reputation as "Flashy outfits so powerful and beautiful it will make you forget every other model train you ever saw".
This Keepsake Ornament complements the LIONEL Blue Comet 400E Locomotive and the 400T Oil Tender.
Battery-operated. Light inside car glows.
Size: 4 3/8"L
Uses 3 LR43 batteries.
The wheels turn on the cars. Die-cast metal