---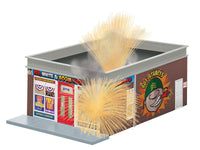 Sale
Sergeant Stumpy has the big bangs and the loud booms in stock at deep discounts! Someone better call the fire department, because with discounts this low, the building just couldn't contain the excitement! With simulated Fiber Optic LED fireworks, sounds and smoke - this Plug-Expand-Play accessory is a must-add to an action packed train layout!
Simulated Exploding Fireworks Fiber Optic LEDS
Plug-Expand-Play Control Box Included
PRODUCT SPECIFICATIONS
Gauge:

 

O Gauge

 

Dimensions:

 

Dimensions: 9 1/4" x 6" x 3 1/2"
4112022